Isothermal Humidifiers Video
Condair EL electrode boiler steam humidifier
Condair RS resistive steam humidifier
Direct Evaporating Cooling Video
Direct Evaporating Cooling
As the humidity is added to the fresh air flow from flowing into, the temperature decreases as the humidity increases.
In order to maintain the low humidity level in the room, the changed air is not directly recirculated and is provided directly to the room where most of the air is discharged.
The degree of cooling that can be achieved depends on the humidity level of the incoming air flow. Low humidity air absorbs more humidity, and it produces more evaporative cooling effect.
Why Humidify
Why Humidify... For Office
Office environments that are air conditioned during the summer and heated in the winter will suffer from low humidity without correct humidification. Prolonged exposure to a dry atmosphere will effect the health of staff, increase absenteeism and lower productivity.
Correct humidity levels are essential to health. Deviations from the mid-range of relative humidity (RH) of 40-60% can reduce air quality by causing an increased growth of bacteria, viruses, fungi and mites. Bacteria and viruses, in particular, thrive in an environment where the air is too dry. Studies have shown that when the indoor RH drops below 40 percent, absenteeism due to illness increases. Conversely, if the air is too moist (above 60%), allergies and asthma increase due to the growth of fungi and mites.
Why Humidify... For Data Centers
Humidifiers are required in data centers to prevent electrostatic discharge damaging servers and offer high capacity, low cost evaporative cooling.
For existing data centers ASHRAE recommends a humidity level of 5.5°C dew point to 60%RH and an allowable range of between 20-80%RH. In most parts of the world, at some time in the year, humidification will be needed to meet these internal conditions.
Humidifiers are often used alongside free air cooling systems to either boost the cooling capacity with an evaporative cooling effect or provide high load, low cost humidification to the large volume of air flowing through the data center's ventilation system.
In temperate climates, where free air cooling alone cannot meet the required internal conditions all year round, adiabatic humidifiers will provide additional cooling on hot days. This increases the operating window of the ventilation system without having to rely on traditional DX chillers.
Why Humidify... For Call Centers
Call centers that are air conditioned during the summer, and heated in the winter will suffer from low humidity levels if a correct humidification plan is not in place. Prolonged exposure to a dry atmosphere will effect the health of staff, such as electrostatic shocks, a dry throat that can affect the voice, dry itchy skin, contact lenses prematurely drying out, causing discomfort, sore eyes and an increase in dehydration, increase absenteeism, lower productivity, and have a negative impact on equipment and electronics in the building as well.
The transmission of airborne viruses, such as influenza, are also greater at a low humidity level. Maintaining optimum humidity levels within your call center will reduce airborne transmissions and reduce absenteeism.
Why Humidify... For Hospitals and Patient Care
For the medical industry, the goal is to treat the injured or ill in a safe and comfortable environment. Hospital staff must also have a comfortable environment, so they are at their best in order to perform proper diagnosis and treatment. Hospitals also have various rooms with various purposes. They range from waiting rooms to intensive care units, x-ray facilities and surgery rooms. All of these types of rooms require a degree of air quality which includes specific requirements for humidity.
A comfortable, healthy atmosphere is necessary for rest and recovery. If a health care environment is too dry it will not only hinder a patient's recovery but will also encourage infection and further illness. Deviations from the mid-range of relative humidity (RH) of 40-60% can reduce air quality by causing an increased growth of bacteria, airborne infection, sore eyes, sore throat, increased static and dust, and premature coagulation.
Why Humidify... For Museums
Museums around the world include a broad range of objects with widely differing ages: dinosaur bones, stone-age flutes made of mammoth tusks, sensitive photographs, paintings with thick layers of paint, contemporary sculptures. In all cases, the building has to maintain and protect the objects displayed and stored inside.
Dry air absorbs humidity from objects, their weight is reduced and they contract. In the case of humid air, it is the other way round. Climatic fluctuations thus keep the objects in permanent movement and sooner or later a crack appears on the canvas or the color gilding chips off the baroque sculpture. Stabilization of the relative air humidity helps avoid tension in the material texture of the exhibits, the Building Climate Institute emphasizes.
Why Humidify... For Clean Rooms
The importance of proper humidification for clean rooms not only pertains to comfortable and sanitary working conditions, but also product quality control.
Precise relative humidity (RH) that is balanced plays a key role in influencing the efficiency and productivity of these environments, which are designed to be free of dust and other contaminants to enable the production of sensitive items such as electrical components. By humidifying these spaces in a consistent and regulated manner, clean room operational output can be maximized and maintained at desired levels more easily.
Why Humidify... For Instruments
Instruments require close monitoring of humidity in the air surrounding them. This is essential to the preservation of all chambers, wooden sound boards and sliders. Dry air extracts vitality and humidity from the material which damages the object's sound quality and financial value in the process.
The high-value instruments are produced in a climate with monitored air humidity and temperature (depending on the manufacturer, generally at 20–22 degrees Celsius and approx. 40–55% relative air humidity). The air humidity to which such an instrument is later exposed and how much time it has to adjust has a major influence on its longevity, playability, sound and, last but not least, its appearance
Why Humidify...For the Printing Industry
Improve print productivity with optimum humidity!  In the extremely competitive print market, humidity control is essential to maintain productivity at all stages of production and avoid machine downtime and waste.
Paper loses moisture rapidly when exposed to dry air. Sheet and web roll paper is typically produced and wrapped to stay in equilibrium with air at a humidity of 50±5%RH. When the ambient humidity falls below this level, paper loses water to the environment from exposed surfaces, changing its shape, dimensions and physical properties.
Below 40%RH, the movement of paper on paper and other surfaces generates electrostatic charges, which cause it to stick together, attract dust and become difficult to handle.
Humidifier type and characteristics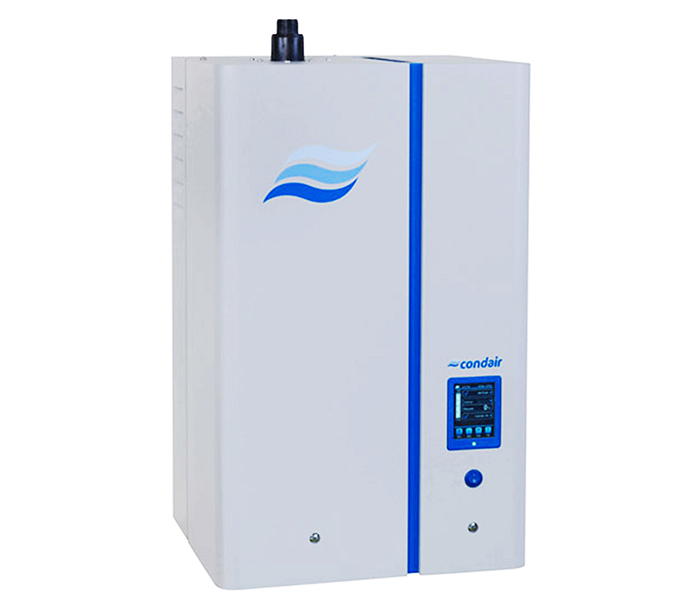 Isothermal Humidifiers
TOUCH SCREEN CONTROL
The all new touch screen controller is easy to navigate and contains the information the user needs
INNOVATIVE NETWORK INTEGRATION
Standard building automation support with integrated BACnet
CONDAIR STEAM CYLINDER
The Condair steam cylinder are reliable and proved, they last drastically longer than any competitor product. Cylinder and the auto-adaptive water control reduce waste water to a minimum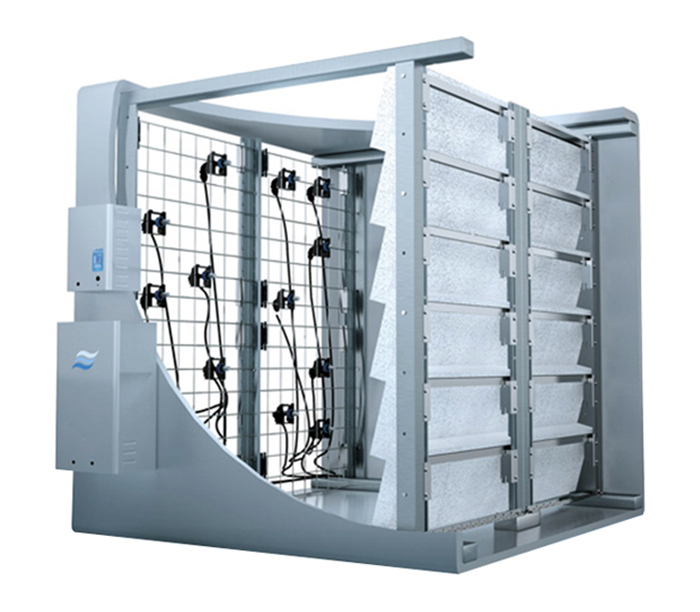 Adiabatic Humidifiers
Fit from smallest AHU Humidifier Section (W450, H450) to biggest (W8400, H4000)
Section length between 600 – 900 mm only, saving AHU section if compares with common high pressure systems
Ideal for retrofitting old washer and media humidifiers
Maximized evaporative area
Easy and fast to assembly
Pressurized Humidifier
Versatile
120 or 360 degree spray angle Wall or ceiling mounted
Most hygienic of its kind
Electronical controlled rinsing and small reservoir
Cyclic descaling process every 30 seconds guarantees no stagnant water
Precise adaptation to ambient conditions
On/off or 0 – 10V control signal
Easy to install
Connect to water mains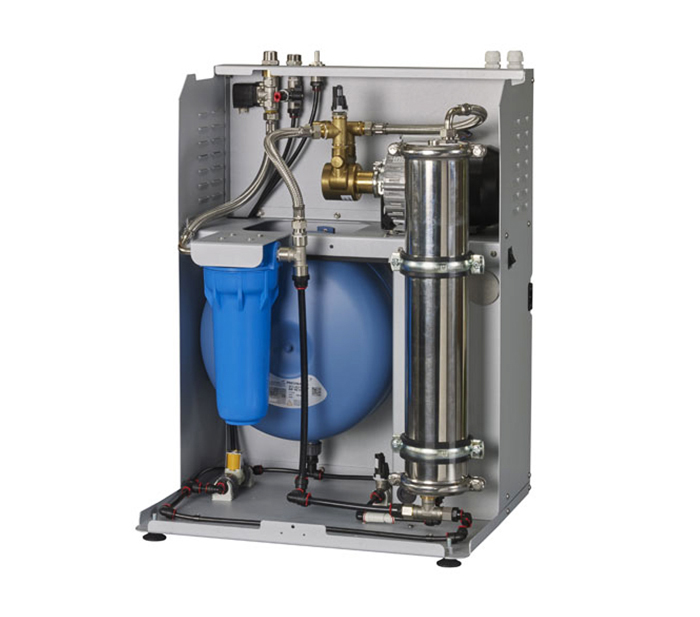 Water Treatment System
System Characteristics
Reduction of scale and other minerals down to 1-3%
Maximal flexibility-complete standalone device or separate components for the configuration of complex individual solutions
Perfect integration in systems with condair RS humidifiers